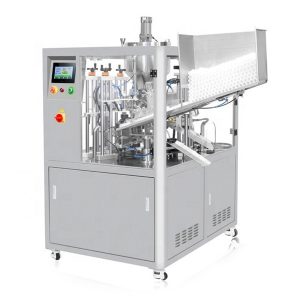 SPECIFICATIONS FOR ULTRASONIC TUBE FILLING SEALING MACHINE
Sealing Dia
5-50mm
Output power
2000瓦
电压
AC220V/single phase 50/60HZ
机器重量
230kgs
After packaging
280kgs
机器尺寸
1300*900*1550mm
灌装范围
A:6-60ml, B:10-120ml,C:25-250ml,D:50-500ml (Customer made available)
Control Style
PLC control
Time adjust
electronic adjust
打包
Plywooden case packaging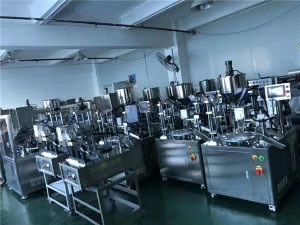 Name: Auto Loading system
Material : Made of stainless steel 304 ,surface by plating
More durable and keep long time

Name: Mark Sensor
Brand: Pannasonic
Original: Japan
Tube Orientation
(R · G · B) LED in high-precision mode, high resolution of R / G · B ratio of reflected light through high-resolution by using built-in 12bitA / D converter can achieve high resolution of 1 / 4,000 Accuracy judgment, determine the color of the color. But also can effectively detect the color around those with patterns and patterns such as film.

two way sealing stations ,can make the end of tubes sealing result are good and beautiful
Name: Sealing Horn
Made of aerospace aluminum
High precision
Sealing and Printing at the same time
Can be Filled date code ( Arabic numerals or English letter)
Free to change date code

Name: dividing rule
Assist to adjusting height of each working station according to tube size

Name: Filling Nozzle
Anti-drip filing nozzle
suitable for high viscosity materials filling
Made by 304 stainless steel

Name: Working Station
Qty: 10 working stations
Tube Holder Made by POM,more durable for using and changing

Name: Two-way cutter
For tube end trimming
Made by 304 stainless steel
No burrs after trimming
More durable

Name :intenlligent digtal ultrasonic generator
It can tracking the ultrasonic frequency automatic accoridng to the differnt material tube material ,do not need adjust by manual

Name :PLC touch screenBrand :weinview
易于操作的触摸屏,可进行快速设置。
主要特点
1. Easy to operate and maintain.
2. Automatic positioning, filling, welding, cutting and trimming, printing code in one time.
3. Stainless steel machine body, strong and beautiful looks,
4. Sealing mould can be customized according to customer requirements. Can seal many size of tubes.
5. Ultrasonic Sealing Machine power source for the pneumatic, working steady, not easy to damage, customers can rest assured use.
6. Ultrasonic frequency can meet international standard, no harmful to human being or environment
7. Can be work in time, not need wait the heat time .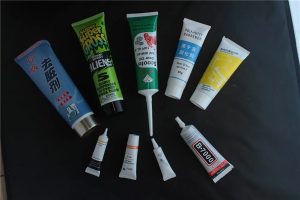 优点
1. It adopts Ultrasonic sealing machine , good for difference products, Such as food, medical, cosmetic products. It will not hurting the products.
2. Overload protection, phase separation protection, power-fail protection.
3. Large Ultrasonic output power to ensure the sealing quality of various tube size and material.
4. With tube end trimming
5. Easy change working mold for difference tube diameter
6. Adjustable tube length
7. Machine include a gear pump filler( Good filling precision+- 1)
填料
我们使用胶合板箱包装机器,它可以满足出口标准,如安全性,保护要求和长期海运或空运的耐用性,我们的包装不需要熏蒸。
交货
对于机器来说,包裹又大又重,并且在不同的国家有不同的送货费用。我们建议的最佳运输方式是海上运输,因此运输成本将取决于您的目的地港口。网站上显示的价格仅为机器EXW价格,请谅解。
常问问题
问:您是贸易公司还是制造商?
A: Yes, We are factory, all machine is made by ourself and we can provide customize service according to your requirement.
问:您的交货时间是多长时间?
答:如果有现货,通常需要5到10天。如果没有货,则为15-20天,具体取决于数量。
Q: What about your warranty?
A: Our warranty is 1 year, all machine part can be replaced for free within 1year if broken(not including man made).
问:您的付款条件是什么?
A: Payment<=1000USD, 100% in advance. Payment>=1000USD, 30% T/T in advance ,balance before
售前服务:
1.提供专业的技术支持。
2.发送产品目录和说明手册。
3.如果您有任何问题PLS在线联系我们或给我们发送电子邮件,我们保证我们会在第一时间给您答复!
4.热烈欢迎个人来电或来访。
销售服务:
1.我们承诺诚实公正,我们很荣幸能为您提供采购顾问服务。
2.我们保证准时,保质,保量严格执行合同条款。
售后服务:
1.在哪里购买我们的产品享有1年保修和终身维护。
2. 24小时电话服务。
3.大量零件和易磨损的零件。
4.工程师可以上门服务。