技术指标
1. Vertical Paste Filling Machine
2. Material: SUS 304
3. Working: Pneumatic
4. Economical Easy Operation
5. Min. Order 1PC
描述:
Ointment and liquid double purpose filler are used in the quantitative filling of water, oil, emulsion, and ointment. It uses the piston pump to fill and regulates the filling scope of the cylinder stroke. The feed methods have two kinds: self-suction and hopper type. The self-suction directly sucks from the container and the hopper type puts the materials into the hopper to fill. This machine has the convenient and swift measurement, good shape and compact structure. The places contacting with the materials are made of high-quality stainless steel (usually using 304, the Medical 316L). The machine's unique valve structure realizes the double purposes of ointment and liquid, which is the ideal and economical equipment for medicine, daily chemical products, and fine chemical industry.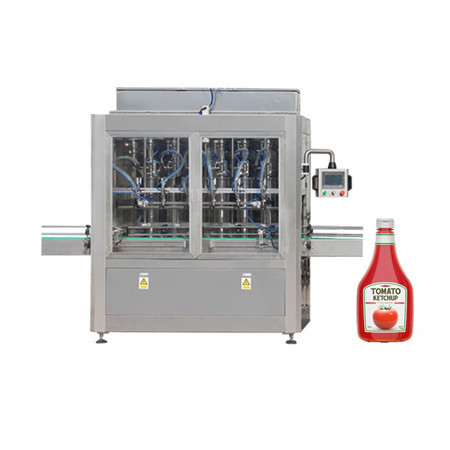 特征:
This machine adopts full pneumatic control and owns a wide application scope, simple measuring regulation, good shape and convenient cleaning, suitable for the explosion-proof unit.
技术参数:
Gas pressure: 0.4-0.6 MPA
Filling range: 5-100ml,10-300ml,50-500ml,100-1000ml,500-2500ml,1000-5000ml
Filling precision: ≤± 1%
Filling speed: 25-45 times/min
Weight: 70KG
Size: 1200mm*300mm*1380mm
Working way: By air compressor
We useFamous brand electrical parts to keep the machine with high quality.
保证: One year from the date of installation. If there is any wearing part be broken within the warranty and isn't caused by the un-properly operation, then the Seller would offer the new parts for free.Vertical semi-automatic Pneumatic Liquid Filling machine bottling machine for water, oil, juice
Inspection: The buyer will do the machine inspection when the machines are ready.
Machine Installation or Fixing: If Buyer requires Seller's engineer to install or fix the machine locally in due course, the Buyer should pay the round air ticket cost and arrange the hotel accommodation as well as the means for Seller's engineer.
Documents: We can provide Telex release bill of loading or Original Bill of loading, Certificate of the original. Other documents can be provided according to your requirement.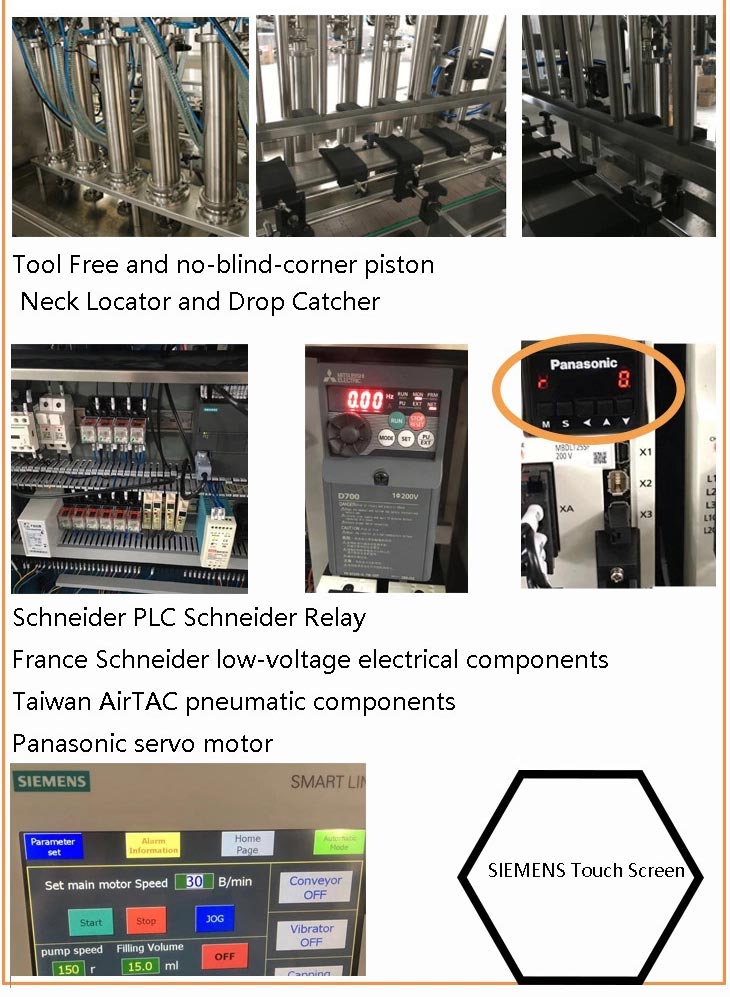 我们的服务
About after-sale service of our machinery
通常,机器的保修时间约为1年。在保证时间内。由机器本身的设计缺陷引起的机器损坏,我们对此负责。我们可以提供免费的充电中断部分。如果由于人为因素造成机器损坏,用户需要对此负责,我们将提供技术支持。
About goods shipping of our machinery
我们有很长一段时间工作的货运代理。我们会尽力将机器安全无虞地发送到您的港口。如果您需要,我们可以帮助您进行清关。
About payment term of our machinery
目前,为了保护您和我们的权利。我们俩都安全,希望我们能以安全的方式开展业务。
L/C(>20000USD),Western Union,T/T(Bank transfer),Paypal
您想要哪一个,我们可以讨论。
关于我们机器的在线服务
24小时在线解决任何问题。您的电子邮件将在12小时内得到答复。您的满意是我们的追求。真诚希望我们的合作。
训练:
1.我们提供机器培训系统,客户可以选择在我们工厂或客户车间进行培训。正常的训练天数是3-5天。
2.我们向客户提供操作手册。
3.我们向客户提供培训视频和机器操作视频。
4.如果客户不知道如何操作和使用机器,我们将提供远程控制服务。
安装:
如果需要,我们将派遣工程师在买方的位置进行设备的安装和调试。国际双向机票,住宿,食物和交通,医疗的费用应由买方为工程师支付。买方应与供应商的工程师充分合作,并准备好所有安装条件。
保证:
制造商应保证货物采用制造商的最佳材料制成。该机器将在一年内保修,在保修期内,由于供应商的质量问题而损坏的任何备件,这些备件将免费为客户提供,如果包裹重量超过500克,客户需要支付运费。
Scope of Business
Our company is a manufacturer that produces cosmetic, pharmaceutical, chemical and dairy equipment. We undertake equipment design, manufacture, installation, maintenance, technical improvement support, technical consultancy and other services. Our main products are soap machine, packing machine, labeling machine, capping machine, sealing machine, wrapping machine, vacuum homogeneous emulsifying machines, reverse osmosis water treatment machines, automatic and semi-automatic 灌装机 and all kinds of stainless steel mixing tanks. All of them are of reliable quality and good effect. We have more than ten years' experience in machinery manufacturing and our products have been entered into domestic and overseas markets. The diverse products with high quality can meet various needs of industries mentioned above.
常问问题
问:您是工厂还是贸易公司?
A: We are factory focus on designing, manufacturing, assembling, installing and debugging various types of cosmetic machinery such as filling machines, capping machines, labeling machines, soap machines, sealing machines, packing machine and printing machines etc since 2008.
问:您能否发送视频以显示您的机器如何工作?
答:当然,我们已经制作了所有机器的视频。
Q: Do you make a test before shipment?
答:我们始终对机器进行全面测试,并确保在发货前能正常运行。
Q: What is the term of payment and
trade terms?
答:我们接受电汇,西联汇款,速汇金,阿里巴巴贸易保证金。
贸易术语:EXW,FOB,CIF,CNF。
问:什么是起订量和保修?
A: There is no MOQ, welcome to order, we promise 12-month warranty.
问:哪种运输包装?
A: Use the basic stretch film wrap around the whole machine, and packed with the exported wooden case, also can be according to your requirements.
膏体灌装机