特征:
Filling volume, filling speed can be adjustable, bottom close positive shutoff nozzles ensure drip free operations; The diameter of the filling nozzle optional within 3mm-12mm;
Piston type filling, can be operated by foot pedal or by automatic timer, could transfer between semi-automatc and automaitc;
Use silica gel O-ring(cam bear 100 Celsius degree), comply with the food safety; Can optional silica gel ring or rubber sealing ring, rubber sealing ring used for anti-corrosion produce;
One head with one cylinders, filling head can optional single head, two head;
Can optional the model: 10-100ml 20-200ml 50-500ml 100-1000ml 250-2500ml 260-2600ml 500-5000ml;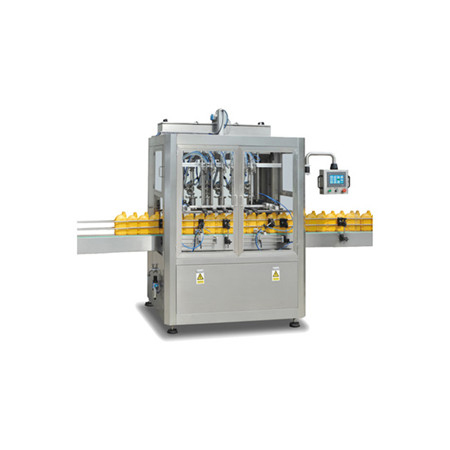 应用
Use for filling liquid and paste material, such as water, cooking oil, juice, milk, yoghourt, sauce, cream, shompoo, chilli paste, tomoto paste, paste, liquid of detergent etc;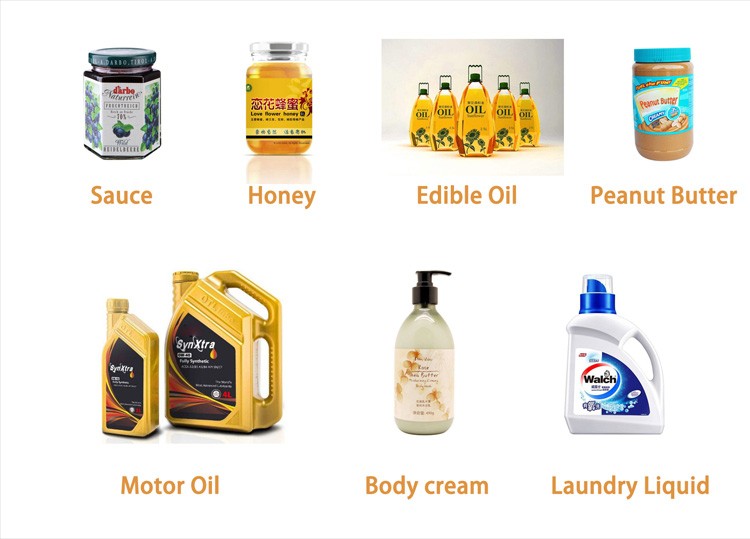 Adopt Airtac pneumatic components, full pneumatic drive does not need electrical power, need to contact to the air compressor; safety explosion-proof type, simple operation, high filling accuracy;
参数:
Filling range:
10-100毫升
20-200ml
50-500毫升
100-1000毫升
250-2500ml
500-5000毫升
填充喷嘴:
one nozzle
Filling speed:
10-40 times/min
Filling accuracy:
within 1%
Air pressure:
0.4-0.6mpa
Control mode:
Full Pneumatic
重量:
35/30kg
50/45kg
Packingsize:
101*33*35+41*41*50cm
122*40*40+41*41*50cm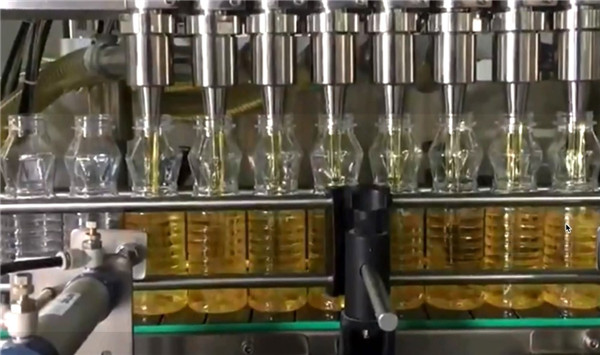 Automatic liquid filling machine
| | |
| --- | --- |
| 模型: | Automatic liquid filling machine |
| 材料 | Body is 202ss, food grade 304ss(can be customize with 316ss). |
| 适用产品 | water, e-liquid , pesticide and many liquid products. |
| Filling Container | Including bottles, jar, vial bottle and so on. |
| 灌装速度 | Including bottles, jar, vial bottle and so on. |
| Automaitc Grade | It's full automatic liquid filling machine. |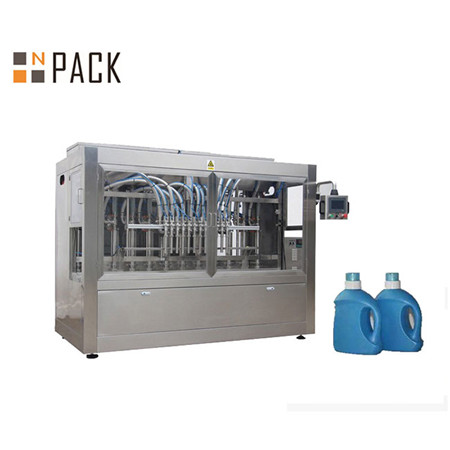 Full automatic filling line
| | |
| --- | --- |
| 模型: | It's full automatic filling line. |
| Composition | Including bottle distributing machine, liquid filling machine, capping machine and labeling machine. |
| 适用产品 | water, e-liquid , pesticide and many liquid products. |
| Filling Container | Including bottles, jar, vial bottle and so on. |
| 灌装速度 | 6*10-40 times/min. |
| Automaitc Grade | It's full automatic filling line. |
Automatic paste filling machine
| | |
| --- | --- |
| 模型: | Automatic paste filling machine |
| 材料 | Body is 202ss, food grade 304ss(can be customize with 316ss). |
| 适用产品 | cream, cosmetic and many paste products. |
| Filling Container | cream, cosmetic and many paste products. |
| 灌装速度 | 10-40 times/min * 4. |
| Automaitc Grade | It's full automatic paste and liquid filling machine. |
Pneumatic paste and liquid filling machine
| | |
| --- | --- |
| 模型: | Pneumatic paste and liquid filling machine |
| 材料 | Body is 202ss, food grade 304ss(can be customize with 316ss). |
| 适用产品 | cream, cosmetic and many paste products. |
| Filling Container | Including bottles, jar, vial bottle and so on. |
| 灌装速度 | 10-40times/min. |
| Automaitc Grade | It's semi automatic paste and filling machine. |
问:您是工厂还是贸易公司?
A: We are factory manufacturing packaging machines and we provide perfect OEM and after-sale service.
问:能否将视频发送给我,以展示机器的工作原理?
答:当然,我们已经制作了每台机器的视频并将其上传到Youtube。
问:我怎么知道您的机器运行良好?
答:交货前,我们将为您测试机器的工作状态。
问:我怎么知道您的机器是为我的产品设计的?
答:您可以将产品样品发送给我们,然后在机器上进行测试。
问:如何付款?
A: We accept T/T, Western Union paying methods. For those orders less than 500USD, we accept PayPal to pay.
Q: Do you have a CE certificate?
A: For every model of machine, it has a CE certificate.
膏体灌装机